Service
Pricing Information
Turn to The Ice Shanty in Sebastian, Florida for all your mobile cold storage needs. We offer ice delivery, self-serve ice vending machines, merchandisers and cooler trailer rentals to clients throughout Brevard, Indian River and St. Lucie counties.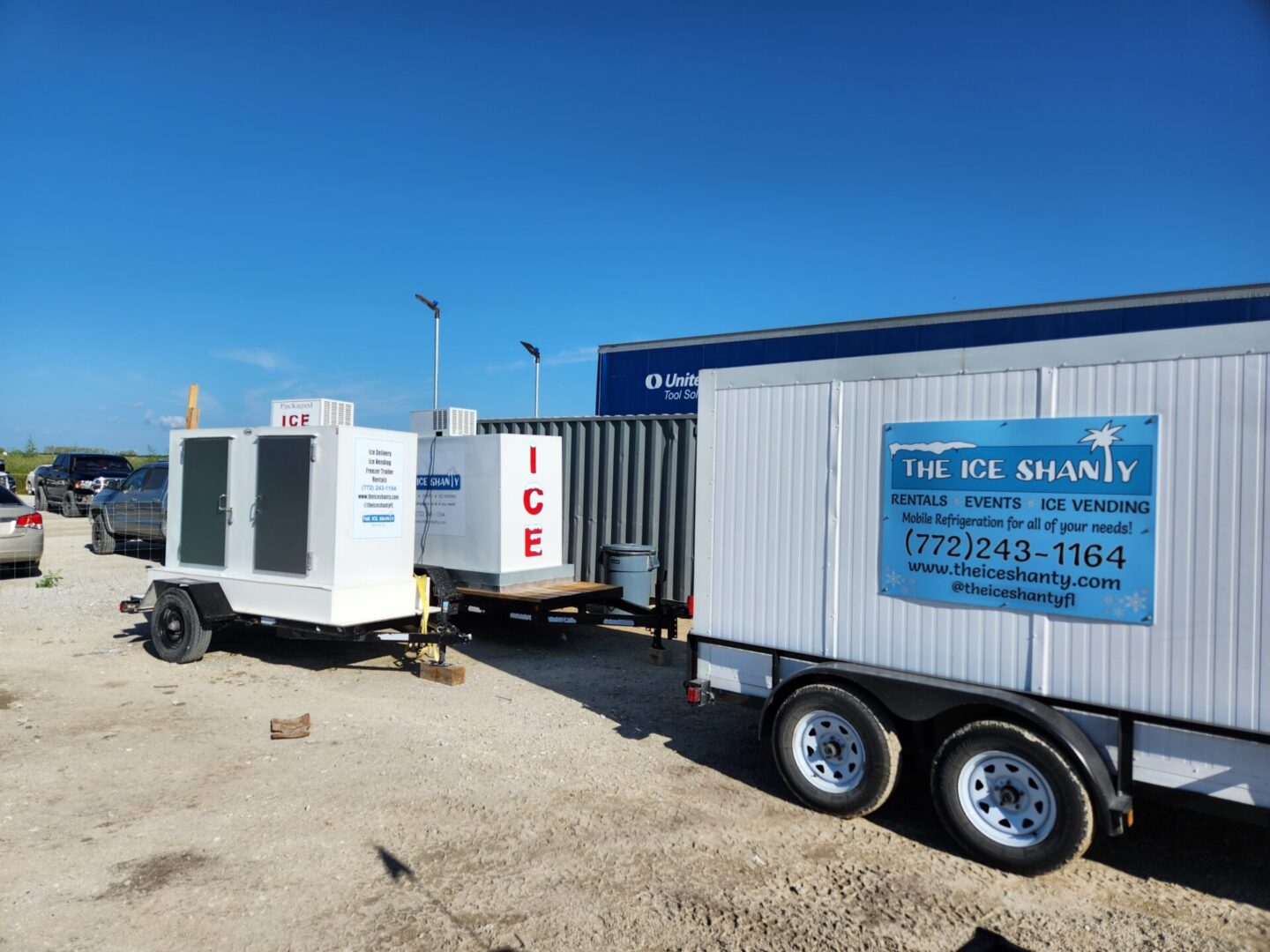 We offer the best priced bagged and bulk ice in the area!
Our ice is formed from solid tubes of ice that is crushed, creating a chunk of ice that will last much longer than standard competitors.  Additionally, the water we use is filtered and tested regularly to produce clean drinking water and ice.
11660 US HWY 1, Sebastian, FL 32958

16lb Bagged Ice - $3.00
20lb Bulk Ice - $3.00
Minimum Delivery of 500 Pounds of Ice
$159.00 for 500lbs 

$300.00 for 1000lbs
Contact us for any larger custom order.  Mileage rates may apply for deliveres outside of our service area.  Prices do not include refrigerated trailer.
Mobile refrigeration
Trailer Rental Rates
Contact us today for the best cusotmer service and cleanest trailers/merchandisers in the industry.  We strive to make delivery, setup and pickup as easy and as convenient as possible.  
7×12-Ft. freezer Trailer (110 Volts or 220 volts)
Can function as a freezer or refrigerator and can hold up to 6000lbs of ice!
One Day – $99.00

One Week – $549.00

4 Weeks  – $1,999.00
Contact us for special rates on any period over 4 weeks.
Accomodates up to (125) 16lb bags of ice, operates on standard household 110v, fully mobile, will keep ice frozen regardless of outside temperature.
One Day – $89.00

One Week – $499.00

4 Weeks  – $1,699.00
Contact us for special rates on any period over 4 weeks.
Free delivery available within 15 miles, $2.00 per mile outside of 15 miles. Generators are available at $49/day and include one tank of non-ethanol gas.  50% deposit required to hold a trailer, 100% payment due at time of pick up/drop off.  As always, please contact us anytime if you have any questions or would like a custom quote.  We are here to help!
We'll work with you to position the mobile refrigerated trailer in the most efficient location. Once we've found the ideal place, we'll lock it down, stabilize the cold room with leveling jacks and secure the tires.
We'll then provide you with door locks to secure your products.
Additional Rental Information
We charge $2.00 per mile for delivery and setup outside of 15 miles. All deliveries originate from Sebastian, Florida 32958. Additionally, generators are available for an additional fee of $49/day.
Whether you need onsite or offsite cold storage units, it's time to consider mobile refrigeration trailers. Our models are reliable and secure for storing goods.
You won't have to worry about the integrity of your goods when you use our mobile freezer trailers and ice merchandisers.
If you have any questions about our services, don't hesitate to contact us. We hope to hear from you.